Whoever is first…The above painting of The Last Supper by Duccio (1308-1311) shows, like the famous depiction by Leonardo di Vinci, Christ seated at the center of the table, yet many historical authors describe a typical first century meal differently.
Unlike our present-day western tables, Jesus and his disciples would have gathered at a low table and reclined around it on pillows or cushions. The common practice was to lean on one's left side, head toward the table and feet stretched out behind. The table may have been long and oval or shaped like a "U," but in either case guests would be arranged so as to leave space for serving dishes to be brought to the open end of the table.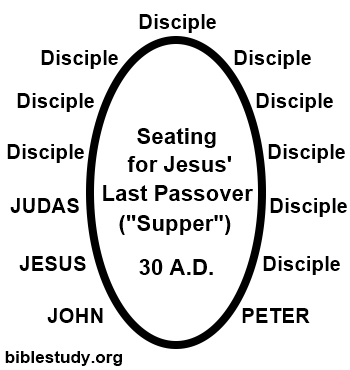 Jesus, as host of the meal would have been seated on the second cushion at the left side. Following the description in the Gospel of John, it seems that the seating arrangement places John to Jesus' right and, very possibly, Judas on his left in the seat known as the place of honor, next to the host. One author points out that Jesus, far from rejecting Judas, was reaching out to him even to the end.
One of the most painful moments of the evening comes when the disciples argue about who among them was the greatest (Luke 22:24-27). Whether brought on by the seating arrangement, or Jesus' announcement that one them would betray him, the disciples are astonishingly unaware of the gravity of the meal and their own clamor for superiority. And, this after Jesus had washed their feet at the beginning of the meal (John 13:1-17).
How amazing is the grace of Jesus! He welcomes sinners, the arrogant, and even those who turn against him to the table with him. Even though every one of these disciples would flee, yet he carries on with this meal which illustrates his self-sacrifice and saving intent. The true meal is about to be prepared and served.
Gracious Savior, thank you for allowing us to come to your table, eat of your sacrifice, and know your heart.

God bless you as you walk this Holy Week journey.
Jim +